BASED ON JAMMER MODEL TSJ1390LT-H
1500 WATTS MODULAR SYSTEM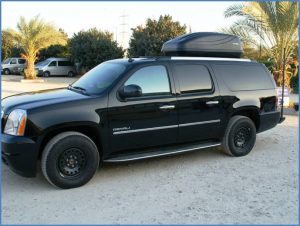 CAR: 
Yukon Daneli XL
Main requirements:
Engine: 4.2L or more
Transmission: 4 Speed Automatic;
Drive rtranins: 4WD (All wheel drive);
Fuel economy EPA highway (mpg): 25 and EPA city (mpg): 18
Multi-point injection fuel system
25 gallon main unleaded fuel tank
Doors, Roof and Floor – High Hardened Ballistic Steel and or Ballistic Nylon ;
Pillars and Posts – High Hardened Ballistic Steel;
Radiator Protection
The TSJ1390LT-H is a vehicle mounted very high power jammer designed for blocking remote controlled improvised explosive devices Used by terrorist.
The TSJ1390LT-H is using state-of-art technology for maximum performance and jamming the signals transmits to activate bombs.
The unit controlled by Microprocessor for PLL programming and use unique modulation technique based on mixed signal for maximum jamming efficiency.
Each module of TSJ1390LT-H transmits unique noise signal which create "firewall" between the transmitter and its receiver.
The jamming signal is being generated by Multi-VCO chain which results very high sweeping time along the bands hence create high RF density in each part of protected frequency band.
Jamming radius of TSJ1390LT-H depends on several conditions such as transmitter frequency and output power, distance to receiver and obstacles between.
System modularity allows flexible usage in different applications.
The system use Broadband Omni-Directional antennas for 360º protection.
Systems have 3 modes of operation:
Sweep Mode
Jamming the whole frequency band at an ultra-fast
Speed continuous sweeping.
GSM /CELLULAR ) Mode
Jamming 4-5 GSM  frequencies -pre-programmed.
Open Communication Window
Allows open communication from 5 pre-programmed options.
Thus frequencies can be changed in factory when customer needs.
Designed to block wireless communication including HF(high ), VHF, UHF, SHF (P), Cellular Networks, Satellite Phones (L), GPS etc.
Output power up to 150W per band –total 1500W )
Modules of Jammer operates separated;
Separate switch ON/OFF and switch Operation Modes control for each frequency band.
3-4 External antennas(VHF(20-120Mhz) , 2xUHF ,)min.
13-14 special antennas in covert roof box ( winter roof box)
Remote control
Specific signal source per band for maximum jamming efficiency
Applications:
Special Military Units,
Special Police Units,
VIP Protection,
Bomb Disposal,
Convoy Protection etc.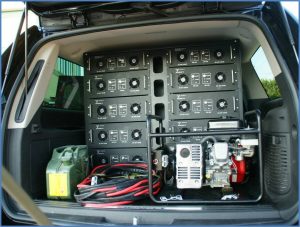 | | | |
| --- | --- | --- |
| Frequency Band, MHz | Equipment In Use | Output Power |
| 20-118 | Cordless Analog Phones, CB, Wireless Toys etc. | 150 |
| 118-400 | Cordless Analog Phones, 2 Way Communication Radio, Wireless Toys etc. | 150 |
| 400-500 | 2 Way Communication Radio, TV UHF I etc. | 100 |
| 500-800 | 2 Way Communication Radio, TV UHF I etc. | 50 |
| 800-850 | Cellular etc. | 100 |
| 850-900 | Cellular CDMA | 100 |
| 900-960 | Cellular GSM | 100 |
| 960-1200 | Wireless Communication, TACAN, DME | 40 |
| 1200-1350 | Emergency/Military GPS | 40 |
| 1350-1520 | Satellite/OmniSTAR L-Band | 40 |
| 1520-1805 | GPS, Satellite, Thuraya, Iridium, Inmarsat | 40 |
| 1805-1880 | Cellular HGSM (DCS) | 100 |
| 1880-1990 | Cellular etc. | 100 |
| 1990-2110 | Wireless communication | 50 |
| 2110-2170 | UMTS – 3G | 100 |
| 2170-2500 | MMDS | 50 |
| 2500-3000 | MMDS | 50 |
| Total | 17 | 1360 |
Special alternator 200A (add on –used only for the jamming systems )
8X Backup Battery; TOTAL 800 AH
special electric board
Omni Directional Antennas;
Directional Antennas;
Cables Install Antennas;
Units Remote Control– Switch ON/OFF and Switch Operation modes;
2X Special 19″ rack (20U) to contain Modules.
Few mobile boxes for the antennas, cables ,Connectors and other equipment
First aid box
Self support air condition (used only when the car is in GSM jamming operation –work with outdoor generator )
01 Electric Generator: 2 KVA; ( 1.6 KW )
Flir System for Night driving
Police siren and police lights
Radiation protective window cover material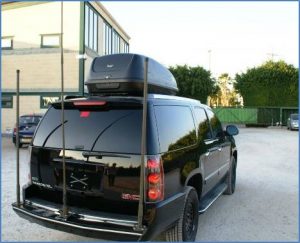 To enable uninterrupted -3-4 hours operation of all the jamming systems within the vehicle –with NO motor operation ,  the vehicle will be equipped with 2x 4x100AH  special batteries  systems
A special charger (included in the cabinet equipment) will be supplied
Additionally a 220V/26vdc – power converter will be connected to the generator operational system enabling charging the batteries from the generator. (the generator can act as power supply for the Air condition or as batteries charger not both!)
The 400 Ah/24V (8 x 100AH) battery system is specifically intended for the JAMMING equipment only.
The main power supply board is mounted in the equipment cabin.
The board contains the following components:
Ground insulation monitor for the generator (for testing insulation between the zero phase and the ground in the vehicle to prevent electrocution when connecting the generator to the car/air condition )
Main cut-off switch for grid connections
Semi-automatic switches
220/24VDC power converter for the generator -as backup charger source Selector switch
The ground insulation monitor operates according to the International standard: MIL-STD-810D METHOD 514.3
The vehicle will have a cupboard for storing additional measures for
activities of the "JAMMING operation team"
PRICE
For the VIP jamming vehicle system – (including the vehicle ) 734,000 USD
GENERAL CONDITIONS
DELIVERY SCHEDULE    3-3.5 month ARO
TERMS OF PAYMENT
The prices do not include transport cost from Israel to the country destination, Or any other tax or duty payable on the vehicle or its equipment at the point of delivery.
The price includes all charges due to import the car to Israel and Custom bank guaranty.
TRAINING AND DOCUMENTATION
The equipment will be supplied with a complete set of documentation including user operation manuals and maintenance manuals (in English).
The training for the users and maintenance personnel will be done in English for the duration of 5 – 4 days, and will be executed at no additional cost.